About us
ClickASnap is the world's largest pay-per-view image sharing platform. We're designed for photographers, both hobbyists and professionals, to upload, share and sell images directly through us via their ClickASnap profile. We offer an impressive selection of benefits to our members, as well as having a strong and ever-growing community that interact through our forum, our Facebook discussion group, and our twitter page.
We offer tiered membership levels, starting with a free account going up to our Pro-Seller membership. There are a variety of benefits offered across these memberships and you can see what these are in the section below, as well as what they cost.
Our membership details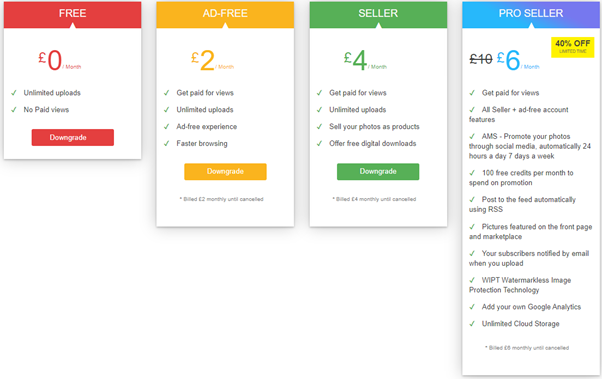 | | | | | |
| --- | --- | --- | --- | --- |
| Membership | Free | Ad-Free | Seller | Pro-Seller |
| Annual cost | £0.00 | £19.20 | £38.40 | £57.60 |
'Get paid for views' – What does this mean?
You may have noticed one of the benefits that is offered under all of our paid memberships states that you get paid for views. This relates to our Paid Per View benefit. Although this is only one of many brilliant benefits, it is more complex than most. To help you better understand what this is and how it works for our members, we've included a simple explanation below.
Through advertising we have been able to monetise the images shared to our platform. We then pay a percentage of this monetisation back to the photographer. The way we determine how much the photographer receives is based off of two components. The first being the rate at which our Paid Per View benefit is being paid out at. This is currently 0.7¢ (USD), however, this may increase, (please note this is zero-point-seven cent not seventy cents). We then use the number of 'views' an image has received, and pay the member 0.7¢ per 'view'. The member can then request to withdraw the money that they have earnt into their PayPal account, when they have reached a minimum of $15.00.
What we are looking for in a publisher
We are excited for you to join us on our journey to growth! We are looking for individuals who can talk and write about ClickASnap with passion, a clear understanding of our product and with enthusiasm! We genuinely want to give back to our creators and give them a platform where they can be at an advantage. With 10,000 new user sign ups daily, we want someone who can communicate exactly that!
What we offer to our publishers
10% commission on all new member sign ups