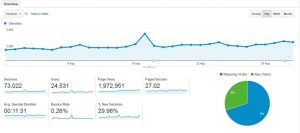 During August Clickasnap went from 40,000 images viewed per day to just shy of 100,000 images per day. With the site size doubling in the month and an average of 1,500 images uploaded per day and 35 new sign ups per day (with zero ad spend i might add, all monies currently go to development costs) Clickasnap is well on course to becoming a major force within the online photo hosting industry. In September we expect to bring out the eCommerce systems which will enable you to sell your images as digital downloads, physically printed products (We have partnered with One Vision Imaging to do this) private art galleries (where you may host what content you want as long as it is not illegal) and a new type of stock imaging system where you will be able to licence your images out on a per impressions basis ensuring the best deal for the photographer and the licensor, and all of this you will be able to set your own prices for. Sell your downloads for £1 and your printed images for £500, Charge £20 a month for people to see your private photos and licence your images at £0.10 per view! The choice will be entirely yours!
[showad block=2]
When the eCommerce comes out we will also be releasing a new look and feel site which will (we hope!) be faster and more responsive and take up less server resources to manage. Once this is released we will re-evaluate our existing resources and site speed and look to launch new serves in the Canada and America thus significantly decreasing server response time in these countries.
We are really proud to already have a site that is ranked faster than Flickr and belive it or not Meta, with Meta ranking at 2.846 seconds load time, Flickr at 1.929 seconds and Flii.by at 1.865 seconds. Clickasnap currently ranks at 0.992 seconds (ranking figures from Alexa.) Site speed is incredibly important when it comes to Google ranking, and maintaining a high site speed ensures that our users photos continue to rank highly within Google's search system when users look for them and related images.
Something else that we consider extremely important when operating sites like this is what countries use our platform. Right now our country user list is as follows:
USA
UK
Canada
Germany
Australia
A list like this is extremely important as the more traffic we get from these countries the more interested advertisers will be to actually advertise on the platform thus, in the long term, once our fill rate approaches 80-100% this increases demand for our advertising spots this increasing our advertising rates. However, I must stress that until we get to 500,000 monthly users advertising will stay fairly static as we can't do direct deals on a large scale until there is a significant audience present on the platform. At our current growth rate, I would expect to see such numbers towards the end of 2016 early 2017.
Earlier this month we put to our users the opportunity to question me on their thoughts and concerns for the platform. This will be out on Mike Brownes Youtube channel on the 17th September, the questions for which can be found here.
[showad block=2]
In Summary I would like to thank every single one of our platform users and investors, as without you the platform wouldn't be going where it is today. We have some of the highest quality images on the internet, a dilligent community helping to keep bad content off the platform and a good manageable growth rate. If you believe in what we are doing and would like to own a little bit of the company (or a large bit) then please feel free to have a browse of our investor prospectus here: Clickasnap Investor Prospectus, no salaries are currently taken and every penny goes into making this platform hopefully one of the best hosting platofrms on the internet of the future.
I hope you enjoyed reading this and of course if you ever have any queries you may contact me directly at Tom@clickasnap.com
Best
Tom
CEO
Videscape Limited