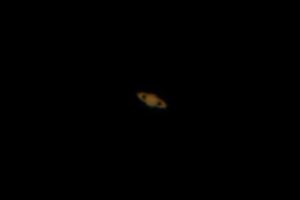 The next weekend, clear skies were forecast! Toby and I trudged off with the Meade to a dark sky site and brought a few friends along as most had never seen a telescope in real life let alone viewed a planet (we were seriously hoping to find Saturn tonight!) We used what we had learnt and aligned the finder scope with the main scope, waited for the stars to rise and aligned the scope (properly this time!) We told the scope to find Saturn and it slewed to where it was supposed to be, we looked through the main scope and there was no Saturn but it appeared in the finder scope! So after about half an hour of playing around we finally got Saturn in the Telescope! Progress! The telescope was tracking perfectly, we hooked up the camera and started taking pictures!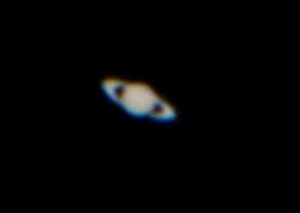 The first photo at the top of the page is unprocessed and the second photo was processed in the photoshop with a stack of about 100 photos.
[showad block=2]
3rd week over and we had photographed Saturn, learnt some star patterns and made huge progress in what is a pretty complex hobby!
As you can see the photos aren't of a great quality, we later learnt that to image planets correctly you don't tale still images but use a video camera and then stack the images! Handy tip for you there 😉