The top of a long, fast, and expensive slope!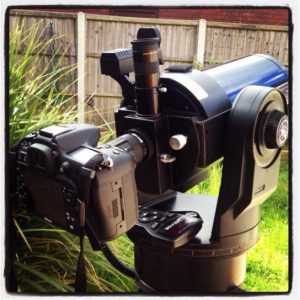 My first telescope A 6″ Meade Cassegrain telescope, with my Nikon D7100 attached
So, where did my fast growing obsession with this hobby come from? The only time that I had even been near a telescope prior to this year was when I was about 9 years olf and I remember my dad buying a small 4? newtonian reflector home.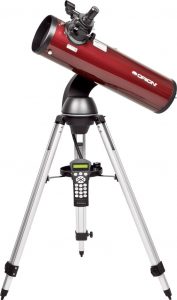 My mum says that she clearly remembers looking at Neptune through it (although after what I have learnt in the past 12 weeks I am not too sure about that!) All I personally remember from it was that I thought it looked pretty cool! Anyway, I was sat in the pub on a Saturday morning about 12 weeks ago and thought, why not try and photograph a planet? (previous to this I had enjoyed and still do enjoy terrestrial photography immensely) So, my friend Toby was with me and i said to him 'Let's go and buy a telescope!' So, I phoned around a few shops and found that there was a Meade GoTo 5? Cassegrain telescope available in Salisbury and it came with the camera adapter for my camera! (Great! I thought I can take photos tonight!) So off we went and purchased the Telescope. It was a neat little thing, although Toby and I got some very strange looks from people as we were wandering around Salisbury trying to remember where the hell I had parked the car, Toby with the telescope body and me with this 5 foot tripod!
[showad block=2]
We eventually found the car and drove to the pub where we proceeded to set it up on the bar and look though a shop window about 500 feet away in amazing detail!
So that was the introduction for me to this fascinating and technically complex hobby!