You've gone out, bought that equipment, taken that amazing shot and now you want to sell it to people, is Meta a good place to do this?
[showad block=2]
The first port of call for most people is their Meta page, unfortunately, in this day and age Meta really isn't worth using much anymore, particularly pages. In January they updated their algorithyms to show content to less than 1% of users for pages with more than 1,000 likes. That means, for every 1,000 people who have opted to view your page about 10 will see your post organically. You do have the option of paying to promote your post to the other people who have liked your page, unfortunately this is more of con/scam than anything else they have done! Look at the image below, we have 600 'likes' on our Meta page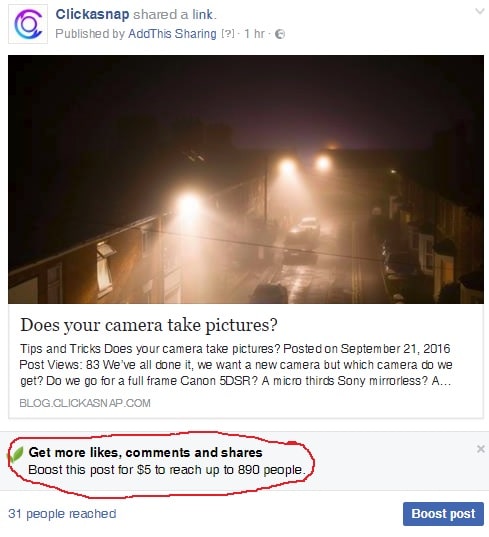 Out of 600 people, 31 viewed the post (Meta's definition of a view leaves alot to be desired however), Meta of course, does offer us the chance to show it to more people, $5 for 890 people just to see our post, that's almost a $6 CPM for people literally just to SEE our post not click on it! For perspective, Clickasnap charges $0.05 everytime someone clicks on your advertisement, that's not a view of your ad, that's actually someone seeing your advert and clicking through to it!
[showad block=2]
Veritasium actually did a study into Meta 'likes' and published a video which ended up going viral because it highlighted how bad the platform has become:
So Meta is out, where else is actually good value? Well, content marketing is certainly becoming incredibly efficient, sites like Taboola and Outbrain offer advertising at a fraction of the cost of Meta and Google and again is on a per click basis, so you aren't charged just for someone to look at your adverts but actually by an action carried out by your end user target audience. Traditional advertising is certainly coming back in, and banner advertising can be an incredibly cost efficient way of getting your work out to people who want to see it, and of course, once our eCommerce systems come out later this year you will be able to advertise directly on the platform to people who are actively looking for photos to view or buy.
What do you think? What are your experience with Meta pages?