As many of you may know we have spent the last 3 months designing and developing a new site for ClickASnap. We hope this new development, as well as considerable added features will cement our place as the Worlds' largest paid per view photo hosting site, as well as enabling our tens of thousands of users to be able to completely monetise their hobby. This site is a complete redesign of the existing site, in fact so much so that you won't even recognise the site!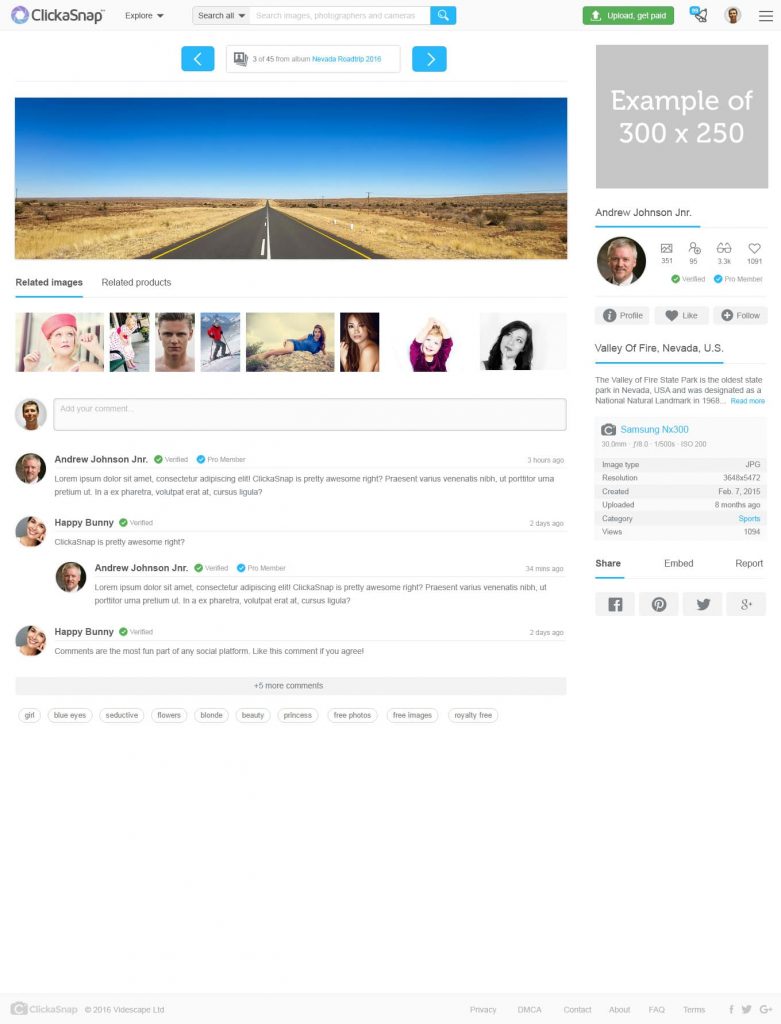 This update will also be including our ecommerce options (read more here) That will enable you to set your own price for the sale of your photos as digital downloads, mugs, mobile phone cases, canvas prints and several hundred other options!
Our current timetable is as follows:
Monday 31st October:
We are going to open our private servers to a select few beta testers who have voluntered to beta test the new site. The reason we are only allowing a few users initially is that it is such a huge update that we cannot just roll it out into an existing site that has many thousands of users per day as it may disrupt the whole site for a period of time. This beta test is not confidential and initial users are welcome to discuss it.
Monday 14th November:
Assuming there are no major issues found and any bugs found are fixed promptly, the platform will be rolled out in full, and you will be able to use all the features of the new site.
What are we expecting to be available when the site launches?
Full ecommerce options, Digital downloads, physical products, private galleries and Stock licensing options
A completely new look and feel for the ClickASnap website, much faster load times, much cleaner and slicker look
The abillity to reply to, and share, both photos and statuses in your Feed to your subscribers allowing significantly larger audiences for your images.
Tags from photos will now be read via IPTC tags to automatically fill the relevant fields on upload
You will be able to search for photos by Photographer, camera type, lens type, ISO and F-stop
The front page is completely redesigned
Photographers albums will now be easily accessible from the profile page
Totals will be added to earnings columns
The feed is completely redesigned to be clearer and easier to use and interact with
The signup system has been redesigned to be easier and clearer
Various bug fixes
As you can see there is going to be some absolutely major changes, all of which will help to get your photos more views (via the sharing features) more money (via the ecommerce options) and more users as the site takes on a more professional and 'slick' look. We hope you bear with us as we do these final checks to ensure the end product transition is as smooth and uneventful as possible.
We are particularly excited about the Feed updates being brought in, with 100% reach unlike Metas 1% reach, for every 100 subscribers you have becomes the equivalent of 10,000 'likers' on Meta. One share of your photo or status can instantly reach 3-400 people for every share. This adds virality to the platform and as previously mentioned could result in far more views of your photos without any additional promotion of your content.
Thank you for using the site and helping us grow. If you have any queries please do contact me directly at Tom@clickasnap.com. Or please post in our onsite public forums.
If you wish to participate in the beta test the closing date is friday 28th October
Best
Tom Oswald
CEO