Earlier this month we switched cameras from a Sony A7R IV Mirrorless to a Canon EOS R5 Canon, and along with that came a new lens or two. One of the lens' I had been given was the new lightweight telephoto zoom lens Canon RF 100-400mm F5.6-8 IS USM. In the right photographer's hands, this lens is capable of capturing some extraordinary shots. In this article I write about my evening at the beach and testing the lens for the first time as an amateur photographer.
After spending two weeks confined to my house with covid, a refreshing trip to the coast was just what my mind, body and soul needed. Not only that, but I was desperate to take out my new telephoto lens to play around with.
Luckily for me, the ocean is never more than a short drive away, and even more special is that the coastline of where I live happens to be the spectacular World Heritage Site, the Jurassic Coast.
As we pull into the carpark, the ocean glistens and flickers as the sun reflects off the surface. There are a few people here, most of them walking their dogs and enjoying their own time on the beach. I grab my camera bag, and off I go.
On this day, my friend Imogen and I had decided to visit the National Trust Site, Studland Bay. The golden sand beaches of Studland Bay peninsula stretch for four miles and the calm sheltered waters provide a natural home environment for marine life, whilst also making it a popular swimming spot for families during the warmer months.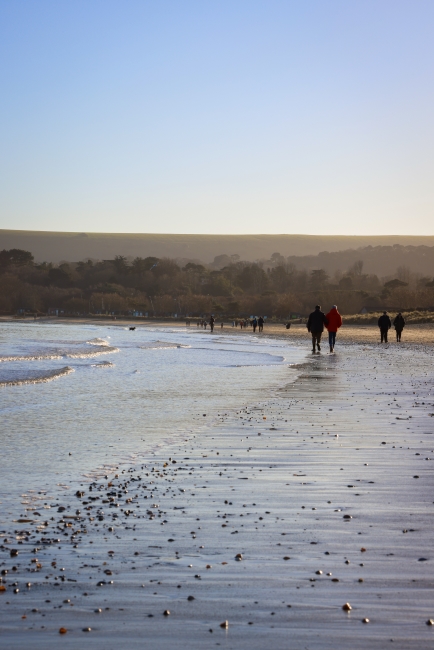 We walk along the beach and make our way to the sea. I stand facing the ocean, timing my breaths with the tide as each wave rolls in and lands at my feet. One, two. Inhale, exhale. I have not been here long and already I can already feel the stresses of life leaving my side.
I watch as Imogen, crouched close to the ground, takes photos of shells and sea foam. I look down and pick up a shell of my own. Such beautiful detail.
However, I don't photograph that today. Whilst I know this lens is capable of close ups, it requires a little more planning and I'm solely focusing on the zoom, and in particular, subjects in the distance.
I let go and watch as a gentle wave washes over it. As I pan the horizon, looking for something a little further away, in the distance I see Old Harry Rocks.
Now, the weather conditions aren't perfect today. There's a haze in the air making my surroundings appear a little foggy, and these iconic cliffs were hard to capture with clarity, but they were in the distance and my lens was made for that, so of course I zoom in and take a shot.
We continue walking along the coastline, and I admittedly stop taking photographs as my curiosity is drawn into the rockpools the waning tide has left behind. My lens is not suited to take images at such a close proximity, but I am inquisitive and easily distracted so my camera retreats back into its bag momentarily.
Exploration over; it's getting close to sunset.
Being on a peninsula, almost all of the beach is surrounded by water, and we soon realised that we were on the wrong side to watch the sun set. So, a quick gather of our things and a short journey later, we arrive at Shell Bay which looks out over the ferry crossing at the grand and luxurious houses of the rich and famous, Sandbanks.
Here I was able to capture a few of the houses as the golden hour glow bounced off their structures.
It's cold out, yet there is a reassuring warmth on my face. One of my most contented feelings is being wrapped up warm on a cold winters day and having that glimpse of sun come through which is just strong enough to make your cheeks feel warm and toasty.
I close my eyes, smile, and embrace the warmth when suddenly another one of my senses awaken. Sea birds call out to each other playfully and territorially as they fight for the best feeding spot.
Studland Bay is part of Poole Harbour (The second largest natural harbour in the world after Sydney, Australia) and when the tide goes out, which it had done this evening, it becomes a popular feeding ground for sea birds who take advantage of the shallow waters to find cockles and various other molluscs to fill their appetites.
This is a great opportunity for me to try my lens out on some bird photography. So, I find a spot to settle, place my eye to the viewfinder and snap away.
Oystercatchers and different species of gull are the main attendees at tonight's feast. They're quite happy wading in the waters, minding their own business and generally being such good subjects to photograph that I nearly end up filling the space on my memory card. Oystercatchers are possibly one of my favourite seabirds, they remind me of travelling Scotland with my partner, and they have a very distinct call which I often hear before seeing them. The contrast of their red, black, and white colours also makes them easy to differentiate between other seabirds. I took this photo and whilst the oystercatcher didn't come out as sharp as I would have liked, I still like the composition of the photo.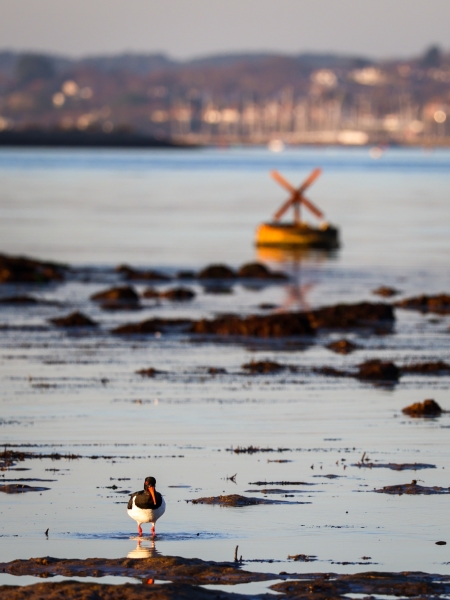 In the other direction, the placing of the setting sun made beautiful silhouettes of other birds. It took some playing around with in order to not over-expose the photos, but a couple came out that I enjoyed.
In the distance along the skyline, I notice a plume of smoke dancing in the sky. A fire on the horizon had startled a flock of birds and they hastily fly up and away to avoid being part of it. Whilst I hoped it was a controlled bonfire and that the heathland from which it came from was unharmed, I couldn't help thinking that it was a good photo opportunity. The smoke blended perfectly in the already burnt-orange sky and as the birds flew around, they looked like they themselves were dancing with fire. I took a couple of photos, but when reviewing them later at home I wish I had used a faster shutter speed.
As the sun lingers over the horizon, it illuminates a path along the dappled beach. The bold burnt-orange hue takes full control and leaves little to no space for any other colour, apart from the deep black shadows. True magic and beauty can always be found in a sunset along the coast.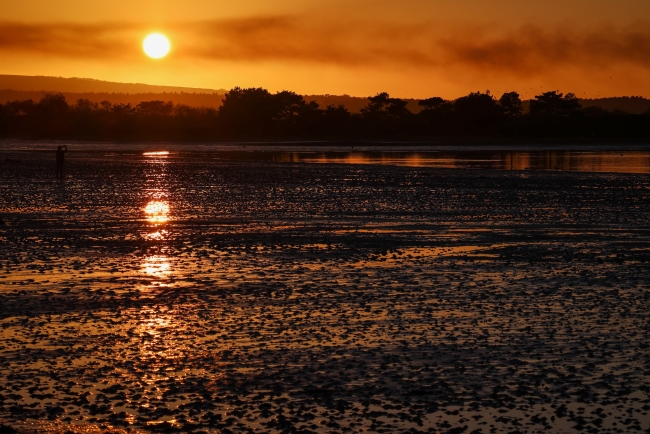 We stayed until the sun went down, watching the light change with each passing moment. As the temperature dropped, we joked about needing a hot drink to warm our hands up. So, when the sun finally dipped below the rolling hills, we dusted the sand from our backsides and left the dunes.
As we turned to leave, we were greeted with a magnificent full moon which was glowing brilliantly against the purple dusk sky. All this time we had been looking in one direction and had our backs turned whilst this moon loomed over us.
I had put my camera away at this point but quickly took it out to take a snap and I was able to capture this image without the use of a steady tripod.
It was nice to get out and practise using my new telephoto lens. It's perfect for bird photography and was good at zooming in on the landscapes. I very much need to keep playing around with it as I am still an amateur photographer and after reading reviews, I know what this lens is capable of. However, as a first outing overall I was pleased with the results, and I am very much looking forward to venturing out with it again.
As for my mind, body, and soul, I appreciated my dose of 'Vitamin Sea' and all my covid-cobwebs feel well and truly blown away. I am thankful to have such a beautiful place on my doorstep and am looking forward to the next day out.
Hope you all have a lovely week with your cameras.
Happy ClickASnapping!
Lily x