When we look at the history of popular culture, the 1970s and 1980s were undeniably a turning point for artistic expression. Across the globe there was a sense of rebellion, as politicians and celebrities alike were breaking barriers with scandalous behaviour and (for the times) shocking fashion statements. Mainstream media was desperately trying to keep clutch of the control it had over 'the people' but free thinking and extreme self-expression was becoming the new way of life, and at a time where social media was unheard of, people were educating themselves and finding inspiration through the medium of alternative journalism.
One such space that domineered this time was the 'Rolling Stones Magazine', a fortnightly American magazine that reports on music, pop culture and politics. The magazine was often centre of controversy regularly accused of promoting drug use and explicit behaviour, but it was the provocative photography that intrigued the world and there was one person with whom artists would seek out to get their stories told in a way that expressed their own truth and creativity. That person was and still is Annie Leibovitz.
Annie Leibovitz is an American portrait photographer best known for her engaging portraits especially of celebrities in intimate settings and poses. Leibovitz's polaroid photograph of John Lennon and Yoko Ono taken just 5 hours before his brutal murder is still considered Rolling stones magazines most famous cover photograph. The polaroid taken on December the 8th 1980 features a young Yoko Ono lying motionless of the floor, wearing casual clothes, her long hair cascades around her as she faces her husband whom with quite the contrast is completely nude, curled in a fetal position around his wife, kissing her cheek and framing her head with his arm. Rolling Stones published Annie's photograph on January 22nd, 1981, by which time Yoko was a widow and the world was mourning the loss of the legendary rock star. In interviews she later described the photograph as a depiction of the couples last moments together including their final kiss, thus making the photo rock and roll's most iconic image in history.
It was with rolling stones that Annie embarked on a decade long career as chief photographer, making a name for herself. Her style is characterized by carefully staged settings, resplendent lighting, and use of vivid colour. Her portfolio and high-profile client list including the likes of Demi Moore, Mick Jagger, Meryl Streep and even Queen Elizabeth II is considered legendary, and her career is still just as fruitful, photographing some of the world's most elite and powerful people for Vanity Fair magazine since leaving rolling stones in 1983.
It was about 15 years ago, due to my love of photography and all things rock and roll that I was gifted a book titled 'Photographs 1970-90′ (available on Amazon) which held over 200 of Annie 's photographs from the first two decades of her brilliant career. It was within the pages of this book that I felt my own creative side come to life. At first glance the book holds images of tasteful nudity and sexual situations but look a little longer and you will see just how beautifully Annie was able to capture the soul of all her subjects, she has a gift that allows her to show composition and tell the life story of her clients. I soon recognized her niche and I wanted it to be mine too. There was something so captivating about the gritty gothic nature of her work, and the way she presented her subjects in such a thought-provoking way that put me on a path towards creating my own portrait portfolio, hoping one day I could create an image worthy of being on the cover of Rolling Stones magazine.
Over the years I had tried many times to recreate some Annie's work, but each image seemed to fall a little flat or miss the mark completely, settings didn't flow right, and positioning of my subject just didn't seem to have that effortless quirky flare that we recognize in most of her photographs. I had tried many different cameras and phones and used editing apps, but I soon realized the problem was me and it eventually became clear to me that trying to simply recreate the image was not going to be enough, so with any free time I found myself with, I used it researching and getting to know the photographer on a deeper level. Google was an obvious avenue to take sending me down a rabbit hole of information where I was able to see some of her less notable work and learn about the education, she received that gave her the skills to create the art we know her for today. Amongst some more of the obscure articles, I stumbled upon an interview where Annie supplied her top 8 tips for capturing the perfect image and I felt like I had hit the jackpot. With this newfound inspiration I decided it was time again to restart my pursuit for the perfect rock and roll image.
Thankfully, I already had a subject in mind, a good friend who in my opinion fit the bill perfectly with her alternative style, fully body tattoos and a silhouette to die for nobody could dispute what a rock star she is. so, we arranged a time to get together and see what magic would happen, using Annie's top 8 tips.
Tip 1 conceptual portraits are dictated by the subject.
Ok, so simply put conceptual photography is a genre that portrays an idea. Sounds simple right? But the more I thought about this sentence the more confusing it became, and it took me a little while to clear my mind and stop over complicating it.
We had decided to meet up on a Sunday afternoon early January and walk deep into some secluded woodlands close to where we live, and we had arranged for Regan (my willing subject) to bring her beloved dog Einstein (a six-year-old Husky) to take some personal photographs for her own collection along with the images I was hoping to obtain.
We hadn't been walking far when I noticed something quite special. The way this canine was responding to its owner's unspoken instructions, as we clambered over fallen trees, pushed past dense shrubbery, and tried to manoeuvre through stinging nettles Einstein seemed to mirror Regan's every move; it was fluid. I took a few steps back allowing them to walk on ahead so I could spectate some more at this beautiful partnership and within a setting full of distractions for a four-legged friend it was then I realized I had found my concept. I had never seen a bond between human an animal like this before, the sheer dedication time and love Regan had poured into this dog as a canine behaviourist had created such a loving trusting relationship that finally allowed me to understand Annie Leibovitz when she said conceptual portraits are dictated by the subject. This alliance was going to be the driving force for this photoshoot.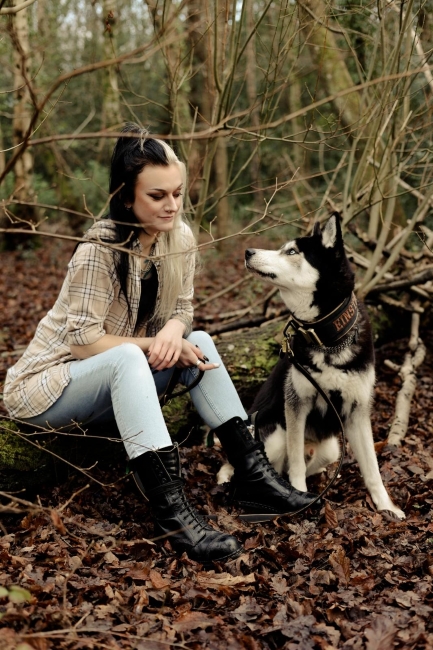 Tip 2 learn from photojournalism
This tip seemed self-explanatory to me. Photojournalism is the art of taking pictures to tell news stories and many photojournalism shoots are candid heat of the moment reporting in which the journalist carries handheld camera equipment and follows the action wherever it goes, this was easy to incorporate into this specific shoot. My subjects were in place of unfamiliarity, able to move freely without structure allowing me to take photos of natural reactions, excluding a few shots where I arranged Regan and Einstein into some more structured poses, I asked them to continue the walk as if I wasn't there creating some of the more candid pictures.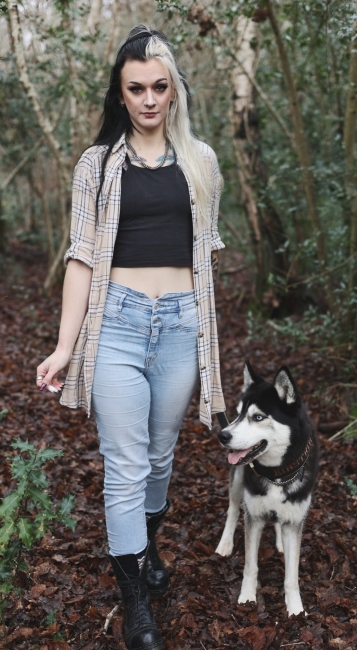 Tip 3 natural light is your friend
This tip can be used in almost every style of photography, but in this case the bright sun light on this January morning created more colour and contrast and gave my photos a depth that created the mood and ambiance I was trying to achieve. It also gave me a great starting point to use some basic editing tools to play with the hues of blue and green and tweak the contrast slightly to give my photos that edgy look.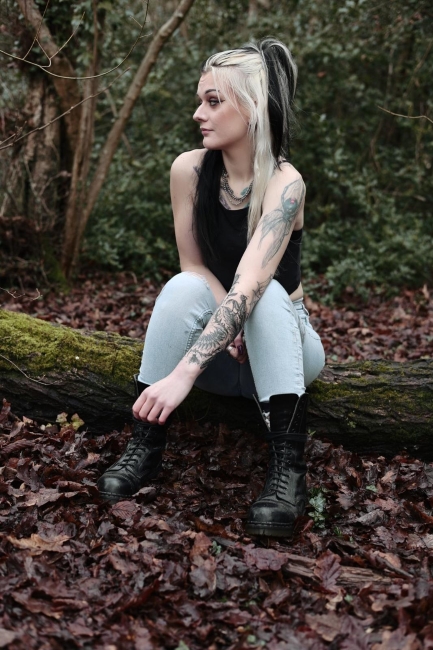 Tip 4 Travel light
This was not so difficult for me considering I don't own a lot of photography equipment in the slightest. However, I appreciate what a useful tip it is. On this day all I had with me was my canon EOS R6 with the RF 50 Lens with adjustable carry strap which proved to be a life saver that day having to use my hands to navigate through the woods and pick up and place objects in the forefront and back grounds of my photographs.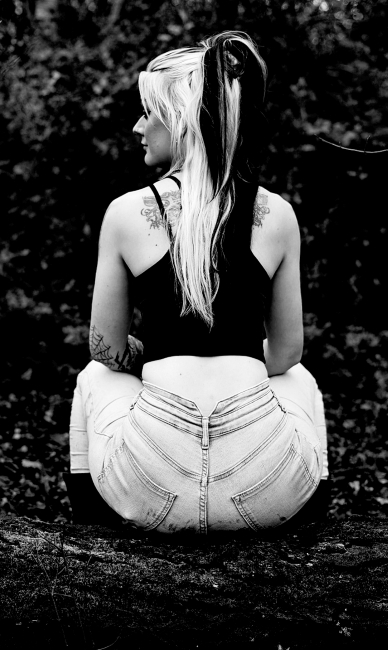 Tip 5 Start work at the beginning of the day
This tip encourages you to really make the most of the natural light that the day has to offer. Throughout the day you can follow the sun from its highest to lowest points, this is a great tip when working with shadows. The suns position in the sky affects the length of the shadows, when the sun is low on the horizon, shadows are long. When the sun is high in the sky shadows are much shorter. This was something I had to think about greatly considering we were deep into the woods I had to follow the lights and incorporate those moody shadows into my photographs to keep that sinister, gothic effect.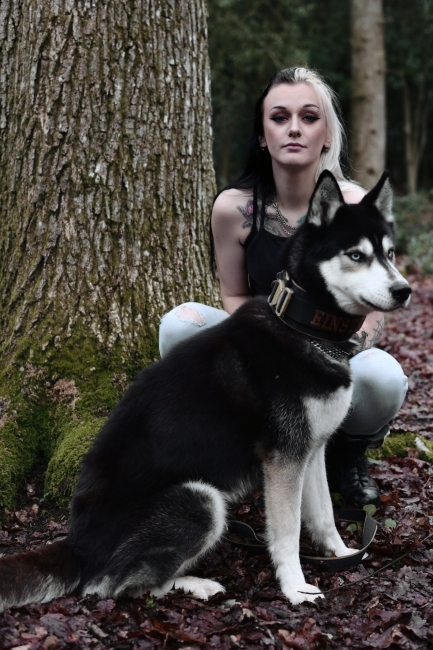 Tip 6 make your subjects feel comfortable
The best way to fully prove this tip is by being comfortable yourself. If your subject senses you are nervous, that is going to throw them off. They need to know that you full have control of the operation; you are, of course, a professional. That's what I tell myself anyway. Luckily for me on this shoot the subject is a close friend, so the trust is already there. Keep it light hearted and don't over complicate instructions. Interact and laugh and reassure your subject constantly. This boosts confidence and really helps deliver the best types of photographs.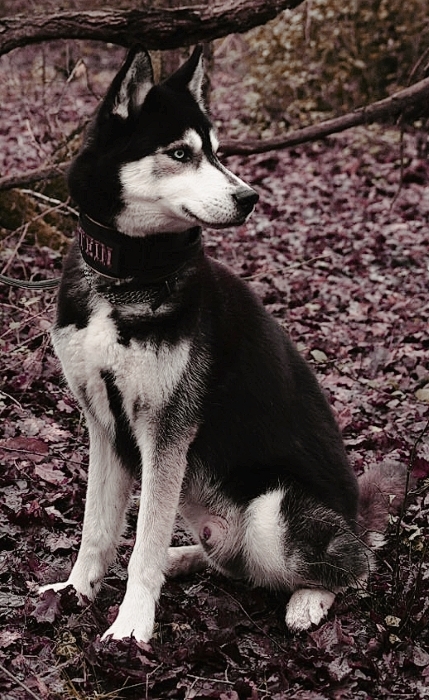 Tip 7 Practice with people you're closest too
Practice makes perfect, and the best way to find your rhythm with photography, especially if your thing is photographing people, is to rely on close friends and family members. Leading up to today, I have often used my children as subjects which has allowed me to work out which settings work best for certain styles of photos. It also helped me gain clarity on the diverse types of instructions that I need to be clear about, on future shoots.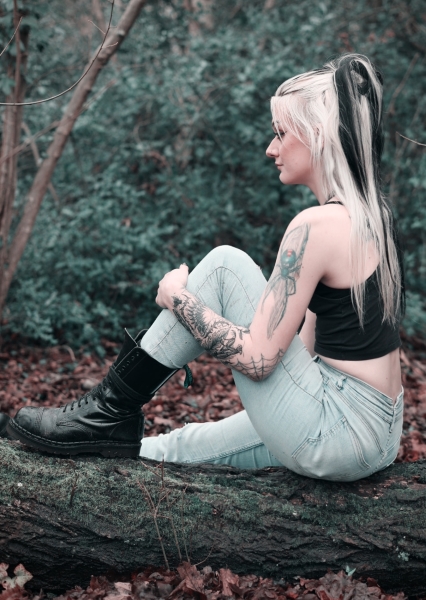 Tip 8 Examine old work
Hindsight is a beautiful tool when it comes to photography, we are literally creating a visual journal of our work. Observation will define your work and it really is the difference between an average photo and a captivating one. Once you know what you are good at, run with it and incorporate it in every photograph you take. Be your own teacher and learn from your own work and the results will be worth it.
Enjoy the journey, trust the process, and like me you may begin to love your own work. My aim for this photo shoot was to create an image worthy of being on the cover of Rolling Stones magazine by using Annie Lebovitz as my main source of inspiration. I am extremely proud of how these images turned out and it's hard for me to choose a favourite. I have probably created enough images for a centre page spread too at this point. Who knows, maybe one day my dream will come true, but until then I will continue to practice and chase after taking that image which one day, people will aspire to get themselves.
I hope my experience has helped you on your journey of photography, comment below and let me know who inspired your work when you first got started!
Sarah-Jane flutter
Amateur photographer