Today we launch our new photo competition. The theme for this one will be 'Animals'. The competition will run from today's date until the 1st November 2016, after which another competition will be launched.
Competition rules:
Photos must be uploaded on or after the competition start date
The winner is chosen purely on artistic qualities, likes and views have no impact on the winner
The winner will be paid $100 by Paypal
The winner will be notified by email and paid as soon as they have returned our requested payment details
The winners photo will be promoted across the platform, leading to hundreds, even thousands of views
Photos must abide by the platforms terms and conditions
Any photos entered after the closing date will not be counted
Photos must be named, unnamed photos will not be counted
Photo's must be added to the relevant competition folder
You can enter as many photos as you like
[showad block=2]
So you want a chance to win $100? What do you do now?
Upload your photos to Clickasnap as normal
Whilst uploading select the 'add to album' option at the top right of the page as shown in the picture below: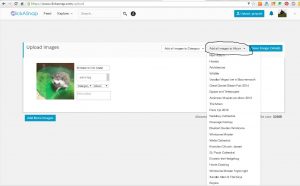 3. Once you have clicked on the 'add to album' option a drop down menu appears. Scroll down until you see the album entitled 'September competition 2016 – Animals' Select that album, then press save image details. You have now added your image to the global competition album. It won't appear immediately, albums are cached so new additions can take some time to show, but they will show!
What happens if you have already uploaded your photos to the site?
Go to your photo page and select the 'add to album' button as shown below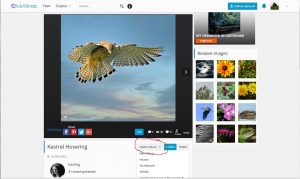 Then again, scroll down until you see the album entitled "'Animals' Competition – September", select it, and it's added!
[showad block=2]
As you can see entering the competition is simple, you earn money for every view you get and you lose no rights at all! So, what do you have to lose? Plus $100 is always a nice thing to get close to Christmas!
Should you have any questions please head over to our forum where you will be able to find any answers you may need
Happy photographing!
PS. Have you seen our new feature?? It scans the internet and tells you all the competitions that are live! Go and have a look at it right HERE