Just over 2 years ago Videscape Limited was setup. Our first major online platform was a video site called Videscape. This site was setup, because, at the time, Youtube was about to launch a project called 'YouTube Red'  This product was designed to increase Youtubes' revenue and move its core business model away from advertising supported (Believe it or not Youtube is loss making for Google) However, it would only work if people, in particular musicians, no longer put their content up for free on the site, as why would someone pay for YouTube Red if they could see the same content for free on normal Youtube? So, what they did was create a hellacious contract which would result in musicians 'never selling a song again', and if they didn't sign they would be banned from using Youtube. This was where we came in, we thought that if there was ever a time to come into the market of video, now was pretty much it. So Videscape was born and built (with the premise that we could stream and monetise video efficiently and therefore pay more per stream than Youtube could, and we did) and to this date has 500,000 users or so, not quite Youtube scale yet but not too bad! Why have I explained this? Well, some of the biggest issues we had come up over and over again when we presented the idea to users was the following:
'Youtube has a billion users, therefore a massive audience'
'I need to be on Youtube to be famous'
Over and over again, these came up. And you know what? We get exactly the same comments regarding ClickASnap, not as frequently, as our platform is fairly unique, but they still come up. Therefore I thought I would spend some time addressing them.
[showad block=2]
YouTube has a billion users: Yes it does, however if this many users made any difference to your exposure everyone would have millions of views. It is EXACTLY the same on Meta, but it is far far more obvious and far worse. Meta actively restricts various posts from being seen (at least with YouTube your subscribers all see your latest video). On your personal profile any posts with links in are reduced to about 1% of your total friends, they do this because people are no longer putting original content on Meta, this has been dubbed the 'Sharepocalypse'. Any posts on a page regardless of link or not are shown to 1% or less of users. Meta's business model is built on advertising, in fact 84% of their revenue is advertising, this is directly correlated to Metas page reach (and therefore Meta's share price), the lower the reach the more people have to pay to get the people who are on the platform to see their content. ClickASnap may currently have a lot less users (1.4M currently), but with no restriction on reach, and features coming in actively designed to push your content in front of more users at no cost, 10 subscribers on the platform is the equivalent of 1,000 likers. Oh, and of course you get paid just from views! Something else to bare in mind is that content on Meta cannot be found organically, through search engines as it is known as a walled garden site, something ClickASnap is not, content on ClickASnap can be found by search engines therefore can have recurring hits for all time.
'I need to be on Youtube to be famous/get exposure' This is a similar debate to the billion users debate above. Firstly, you are the content creator, where you go your fans follow. People fail to realise this, people watch and view your content because it's you and your art not because of the platform. Secondlt; reread point 1 above!
So there you have it, two main reasons why people will hesitate to use a platform (any given platform that competes with majors not just ClickASnap or Videscape I might add). Of course, it's your content so you are always free to put your content anywhere you like on the internet, and this is one of the reasons why we don't force exclusive content on the platform. We believe that in time as people earn more and more money on ClickASnap, and our audience grows and grows they will stop using other sites such as Meta, instagram and so on, in fact, who knows, we could be the biggest photo hosting platform in the world within the next few years!
As a pointer for when posting your ClickASnap links on Meta (or any link to an offsite site) do the following: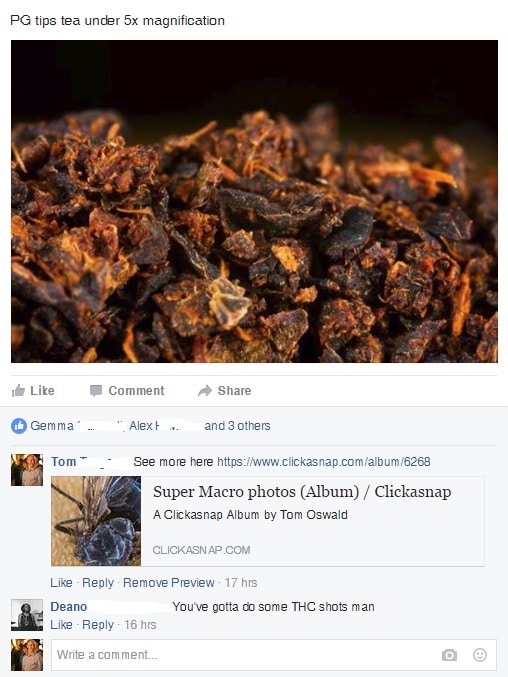 Put your photos into an album on ClickASnap, then upload one photo from the album onto your Meta page, then place a link to the album in the first comment underneath as shown in the photo above, this will make a considerable difference to getting your content seen on Meta.
[showad block=2]
I hope you have found this article useful and it helps you realise why posting links on Meta get very few if any 'likes'
Tom Oswald
CEO
Videscape Limited