You've found ClickASnap, you like the look of the site and you're going to sign up. What is available? and what does it cost?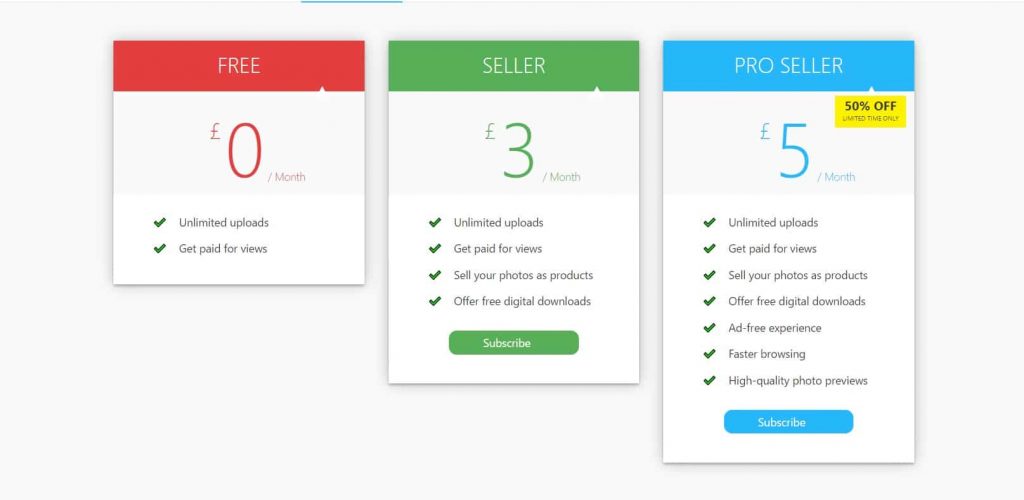 Free account:
This is a basic account that let's you use the simplest features on our photo hosting site ClickASnap
Unlimited uploads. This literally means what it says, you have an unlimited amount of storage space available for your uploads
Get paid for every view. Every time someone looks at one of your photos and a view is registered you will get paid a percentage of the platform revenue
'Seller' Account:
This gives you all the features of a free account, but you can also sell your content.
Unlimited uploads. Uploads as many pictures as you like onto the platform
Get paid for every view. When someone views your photo you will receive a percentage of the platform revenue
Sell your photos as products. You can set the price of your product to anything you want (as long as it is above the actual printing costs of said product) When a user buys your product, a full resolution copy of your image is automatically sent to One Vision Imaging digitally. They will then print it to the specifications set by you, frame it if requested, then send it by courier to your customer. You don't have to do a thing, just sit back and collect the profit which can be withdrawn immediately (subject to office hours)
Offer free digital downloads. Exactly what it says on the tin, want to give away an image? Just set it for free download
Sell digital downloads. Want to sell your images as digital downloads? Just set whatever price you want (has to be above $0.20 to cover Paypals fees) and sell away!
'Pro-seller' account:
This has all the features of the 'Seller' and the 'Free' account above plus the following:
Ad-free browsing. Tired of seeing ads? Support the platform by using a pro-seller account and you won't see an ad on the platform again!
Faster site browsing. Simply put the Pro-seller account has less database calls so is faster to browse and use
High Quality photo previews. This means that the thumbnails that people see prior to clicking on your image are of a higher definition this means they stand out from the other photos and therefore is more likely to be clicked on
Our prices are the most competitive on the internet today, take the hassle and stress out of selling your product and let our automated systems print and deliver your content to any place on the planet!