We here at ClickASnap hope you have enjoyed the summer break. The summer tends to be relatively quiet as far as the internet is concerned, many are on holiday and enjoying the sunshine, and internet traffic overall declines quite significantly.
General Site Overview:
We unfortunately did not manage to complete as much as we planned to during our Q3, primarily because the image technology upgrade took far longer than anticipated however:
We had our second largest update during the last quarter. You can see the detailed write up here but in brief we spent just shy of 3 months developing our Trueform technology. This increased the quality of our imagery substantially. Prior to this update, images often appeared slightly fuzzy and thin line aliasing was often an issue. These have all now been corrected and we believe our image quality is on a par with any other photo hosting site, if not superior to them.
We also completely rebuilt the upload section and the photo and album management sections of the website. This enables our users to edit and manage their content, as well as reorder it, in a user friendly manner.
Growth statistics:
Towards the final weeks of September we started advertising on Google Adwords to start expanding our userbase significantly. Prior to this we had been running several months of optimisation experiments and we have successfully brought our cost per acqusition down to circa £1.07 per sign up, which with our current ad spend is leading to roughly 200 new extra sign ups per week.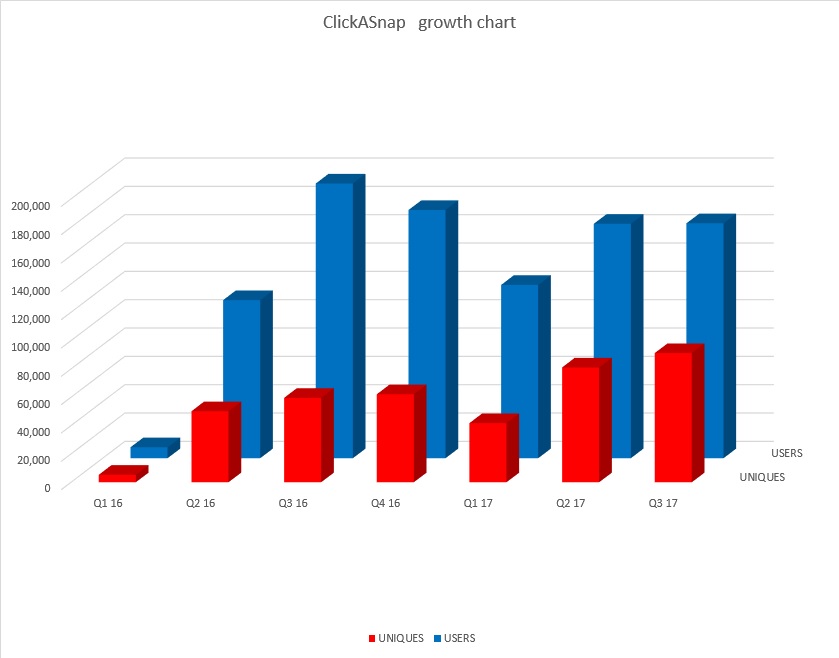 As for our current growth curve, as you can see our unique user base is increasing steadily and our return users (session traffic) is also growing and will look likely to return to our Q3 '16 peak when TSU went bust, but with much more unique users and therefore significantly increasing revenue vs Q3 '16. Our user base is currently increasing approximately 75% YoY although this has been organic to date. We expect with the addition of paid marketing channels that this can be pushed much higher over the coming months.
ClickASnap added 1,188 new sign ups over the last quarter and another 30,000 images bringing our total sign ups to over 10,000 and images on the platform to over 300,000.
Marketing:
As mentioned above we have fine tuned our display advertising campaigns and can run these currently at break even meaning scaling the business without outside financing is significantly easier. We expect these margins to increase as we add new features to the pro and seller accounts also
We have added several new videos to our youtube account and these are now often getting hundreds of views, this will be slow but will progress over time and will be a good source of traffic acqusition in the mid term future
Our twitter account continues to grow, and we now have almost 17,600 followers. We continue, as part of our SEO work, to post articles onto our blog which in turn are linked through to our Twitter account once every hour. This continues to bring in 50-60 people per day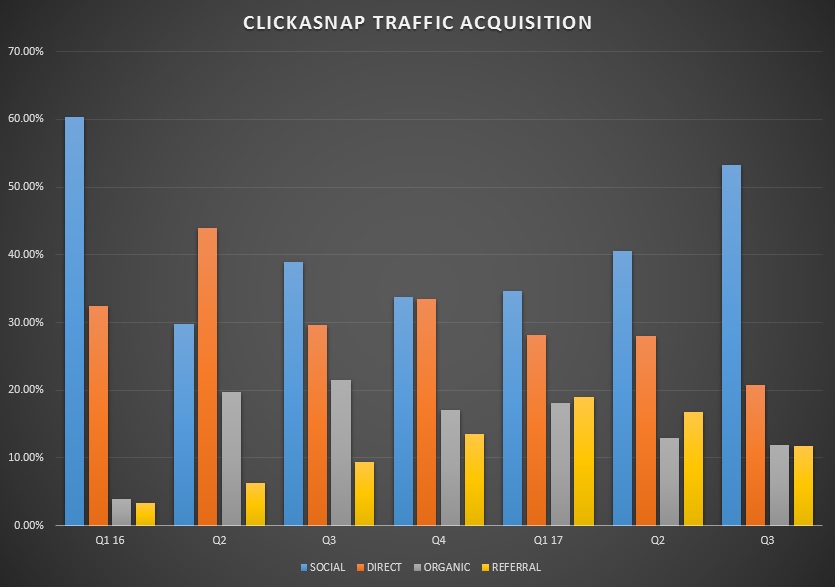 As can be seen from the chart above, our SEO work and encouraging users to put more detail into the description of their photos has worked well in bringing in organic traffic. We expect the trend to start moving up as more people use ClickASnap solely for their work. This is due to the users currently getting penalised for posting their work on multiple websites thus getting all but 1 site downgraded by Googles algorithym when work is being looked for oganically, this in turn means that views become much more reliant on a users self promotional work rather than the organic search process. (One of the biggest misconceptions of the internet today is the requirement to post content on as many sites as possible to increase exposure. Of course the irony is that this reduces exposure because a number of views are diluted over a large number of the same images, and on top of that, Google penalises duplicate content.)
Social traffic is increasing considerably, this is likely because it is the easiest route for most of our users to get more views for their content. We expect this to increase as our userbase increases, and once the automated marketing systems are brought in for the Pro accounts should increase dramatically.
Referral traffic has grown nicely, as more images held on ClickASnap and more websites and forums mention us across the internet these figures should increase. We will be carrying out more work on embeds in the near future especially after Photobuckets blackmail demands which have made the digital press recently. This, coupled with stock licensing using some unique features should help to increase these numbers even further.
What's coming up?
The next quarter is likely to see the following brought in, however dependent on how long it takes to completely correct the existing bugs on the platform the private galleries and image navigation technology may well be delayed till Q1 2018.
New image navigation technology
Private gallery hosting
Various bug fixes
I hope you have found this report useful, if you wish to invest we still have a very limited amount of shares available and details can be found here. If you have any questions I am always available at Tom@clickasnap.com. I look forward to reporting to you all again in the new year!