ClickASnap featured Photographer – Bob Edwards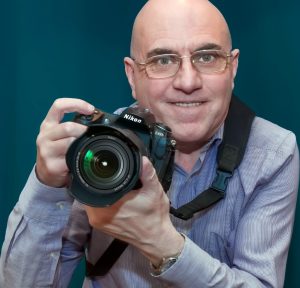 These days I am a photographer, author and newspaper columnist living in the city of Liverpool.
 My interest in photograph goes back many years, I'm 64,I bought my first SLR film camera in the 1960s and after spending a small fortune on rolls of film with three or four half decent images coming back from the film processors I decided I needed to learn properly how to use my camera.  A friend and local photographer took me under his wing and I learned a lot from him, but like many people I eventually used my camera less and less until it ended up back in its box.
 In 1972 I joined Merseyside Police a job I stuck with until the mid 1980s and my photography was forgotten about. After a period of illness I left the Police and went to work at a local college where I studied alongside my job for a teachers in further and adult education qualification. My boss at the college was a keen photographer and this sparked my interest again so off I went and bought myself a more up to date Nikon. I also enrolled on a City and Guilds photography course.
 My second jaunt into the world of film photography was much more successful and having a better understanding of my camera settings I was actually producing not bad images. When digital came along I bought a new camera eventually purchasing a Nikon D50 in 2005.
 Like many people on here I eventually stumbled across Mike Browne on You Tube and that was the turning point for me. In 2008 I took early retirement due to ill health (emphysema) not wanting to waste my time sitting around at home I decided to take my hobby more seriously. I took Mike's advice and went out and practiced continuously until eventually I was happy with the results I was getting.
 In 2013 I wrote a local history book and was approached by a local newspaper to write a column this eventually led to an approach from the paper I write for now who also wanted someone who could cover events and take photographs.
 I am not able to work full time but I cover as many events as I can for the paper and get to meet some amazing people, lots of celebrities and cover some fantastic local stories.
 If Mike Browne and You Tube had been around 30 years ago I'm sure my career would have taken a very different path. I still watch his videos and tutorials and often return to review past topics. I am still learning and thanks to Mike, getting better all the time.
 I joined ClickASnap shortly after its inception and have found it the perfect place to share my photographs and offer images for sale. Not only that but I am earning some money for doing so, I've just been paid $25 by Tom and CAS. The site is getting better and better week by week and I personally think it will be the go to site for photographers in the very near future.
 I enjoy taking photographs of local architecture, places of interest. I also attend the many events that take place in my wonderful city taking photographs for the publication I write for and also share these on my Meta and web pages and of course on ClickASnap.
As part of our ongoing expansion of our free photo hosting site ClickASnap we are launching a 'Featured Photographer' section. This will be a gallery on the front page where our featured photographers are linked from indefinitely, and a short article about them. If you are active on ClickASnap, have good quality photos and you want to be featured please email tom@clickasnap.com with a biography, photograph and any links you may like added