This year is going to be a big year for ClickASnap. Several large investments were secured over the Christmas period which are going to make a massive difference to our Q1 2018 company growth:
Q4 2017 on the development front has been relatively quiet. We released 3 site updates during this period primarily addressing bugs and minor feature addresses. Two of the biggest changes were the following:
Randomly ordering images in recently uploaded
Bringing in free promotional credits for Pro accounts
Both of these have been extremely successful  in increasing engagement and allowing users to increase their following. The random ordering system, whilst some have disliked it has resulted in considerable extra exposure for the majority of users on the platform, as well as continuously revitalising older content, and has resulted in bringing back users who had uploaded content earlier on when the site launched and left for various reasons which have now been fixed, and are now active users of the site again.
We decided to bring in promotional credits for the Pro accounts because this is our start to make these accounts more and more useful to our users (in fact, so successful that we are going to roll out a lower amount of credits to our £3 seller accounts as well). These credits enable the account owners to promote their accounts to gain more subscribers, or promote their images to get more likes/comments and views etc. We don't want the paid accounts just to enable the selling of content, but also to enable automated marketing and better exposure both on and off site.
We had a review of the site carried out by an independent auditor, primarily with the aim of comparing our site with Flickr, Viewbug and 500px whom are arguably the closest we have to competitors currently. This was carried out because, whilst the paid per view system is certainly a unique selling point to us, we realise that the platform needs to also be an awesome photo hosting platform, to get the users, to increase the content, which in turn brings in the viewers, and this in turn increases your earnings! Anyhow, the infographic can be seen below, and clearly shows that what we offer, and the prices we offer for the features included far exceed, and are much better value than any of the aforementioned sites. We plan to continue to expand on this and expand that gap between us and other photo hosting sites.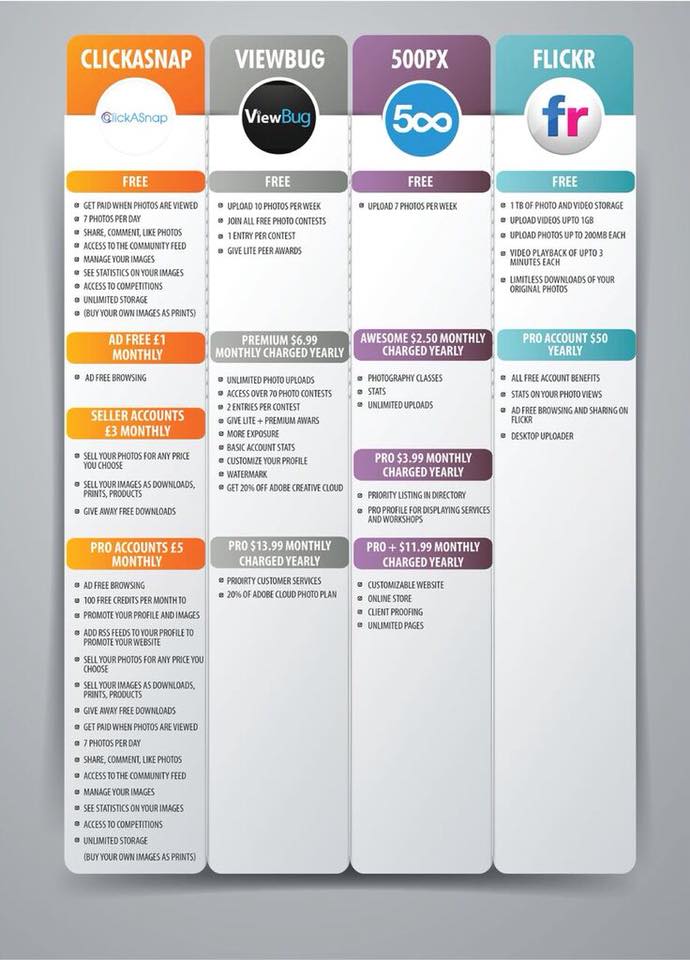 The numbers:
We added 948 new subscribers bringing our total to 11,093 signed up users, who over the 4th quarter added a total of 25,240 images bringing our total up to 319,969 images on the platform, of which 92,094 are indexed by Google (only images with titles and descriptions get indexed and because of this 2018 will likely see an auto-tagging/descriptor system brought in to help users get the best out of their uploaded content.)
These users and images brought in 116,968 viewers who viewed a total of 2,094,686 images.
Our average retention time was 10 minutes and 50 seconds, with each user viewing an average of 17.91 images per session. We still maintained an average bounce rate of 2.2%, meaning 97.8% of users viewed more than one page when hitting the site.
The numbers are slightly lower than previous quarters but this is because during the cold winter months not many people go out photographing unfortunately! We expect these to pick up rolling through Q1 '18 into Q2 '18, particularly as part of the aforementioned investments will be driven into advertising for the platform as we get closer to a 3% conversion rate from our current 2% into paid accounts.
What does 2018 herald for us?
The business:
We are growing nicely organically, but for a unique free photo hosting tech startup like ClickASnap this isn't enough. We spent most of the Christmas period networking and are in the early stages of raising our first Angel investment. This will be used to employ our first full time developers, setup a US data centre to speed up the website for our US users, and we will be spending the rest on marketing so that our user base increases substantially. We would expect another 500,000 sign ups, and 5 million new images over any given time frame from our proposed budget.
The website:
We are still working on the new marketplace and header bar, this will hopefully be completed and released towards the end of January. Once that is complete we are hoping to introduce the following features:
Ability to reply to statuses and status replies within the feed
RSS feed injection, this will be to increase the usefulness of the feed. It's nice to scroll through and see nice pictures, but we believe it would also be very useful to see latest competition updates from around the world, the latest Canon or Nikon product news etc. Paid accounts will also have the ability to add their own RSS feeds, so you can add in blog posts of your choice etc.
Automated Marketing systems and Pinterest syndication. This will only apply to paid accounts and further details will be released as we get closer to the release date which is yet to be determined.
RSS feed content injection:
New Marketplace design: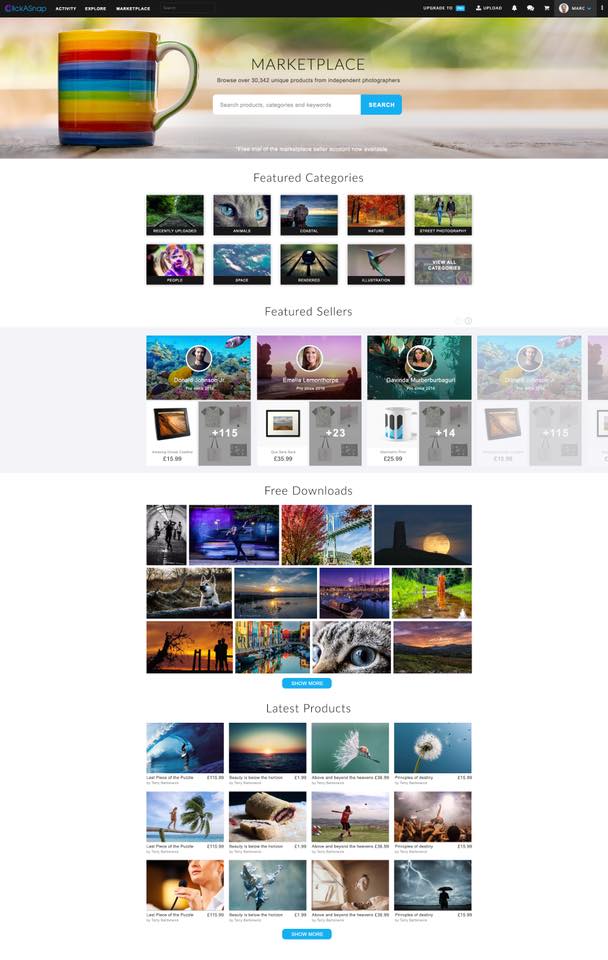 We do still plan to bring in the following:
New image navigation system, allowing simpler browsing, as well as zoom in functions
Private galleries, plus ecommerce within private galleries
At least one more print on demand provider, possibly 2
Pinterest content syndication
Automated Marketing Systems
Whilst we do have a huge amount of features to be brought in, usability is an important subject, so an extended period this year will likely be set aside to increase compatibility with other major browsers as well as address any bugs, minor or major that come up to increase the stability of the platform for our users.
In further news, our public investor rounds are now closed permanently, and minimum investment is now £25,000.
We hope you continue to enjoy the site and look forward to seeing many more image creators earn real money for their work in 2018
Tom Oswald
CEO
Tom@clickasnap.com